WebKozijn, your own web store for doors & windows
WebKozijn is a web store in the cloud for choosing and ordering window frames, doors and windows online. It is suitable for the business market, where frame sellers can calculate and order directly at a frame factory. And it is suitable for the private market, where consumers can view, choose and buy window frames online.
Immediate production
WebKozijn is not a web store with just beautiful pictures. You can immediately configure a real frame that can also be produced directly. When the frame is ordered, the data from the cloud is delivered directly to the frame factory. The frame can be produced the same day in a fully CNC-controlled factory.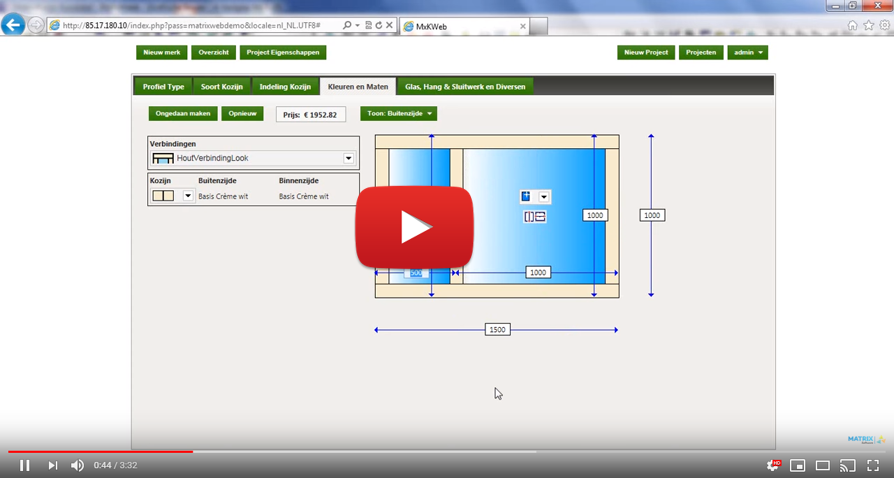 iDeal payment module
Frames that are ordered online can also be paid for or paid for immediately if desired. The WebKozijn payment module supports payments via iDeal. This not only streamlines the ordering and production of frames, but also your turnover and payments.
Interested?
WebKozijn is a new application that is in full development. It is offered as a full service cloud solution. You can manage the web store management yourself. We set up the store together with you: The delivery program and the pricing structure are set up and the web store is given its own design that we match with your branding. Are you interested and do you want to know more about MatrixWindows Webshop? Then call us on +31(0)24-3434380 or respond via the contact form.
Demo website
Meet MatrixWindows Webshop via the demo website. If you want to explore all options, go to the live website.
Live website
For this you need login details. Contact our advisors for this.