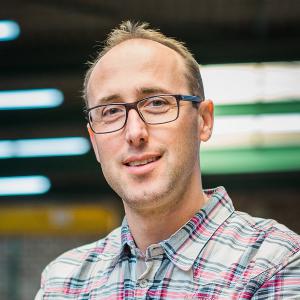 "
We sometimes compare, but Matrix always keeps its lead
Johan Goudriaan
director Goudriaan Steel construction
Read more
"
We sometimes compare, but Matrix always keeps its lead
Johan Goudriaan
director Goudriaan Steel construction
Success begins with insight
Goudriaan BV has been working with Matrix Software since 2006 for order registration and calculation. A choice where director Johan Goudriaan is still square behind today. "Matrix has really been a relief for us. We first had a DOS program, but we wanted to do that. We then compared four or five modern software packages extensively. And it soon became clear that MatrixMetaal was the most mature and most developed in our sector. Meanwhile I can say that it has always been a stable package. It just works. "
Looking for efficiency
Goudriaan BV currently has a license for eight users. This specifically concerns the Order Registration and Calculation modules. "That's right," says Johan Goudriaan, "we really had to take efficiency steps on those parts, we had the rest and we are under control. So we were looking for a user-friendly software package with a clear logic and not too much fuss. MatrixMetal fully meets that profile. "
Streamlined process
Both modules are mainly used to relax a number of administrative processes and to gain more insight into hours and cost structures. Goudriaan: "You have to imagine it that way. Everything starts with an application by a customer. On this basis we will calculate from MatrixMetaal: all materials and prices are already there. And the great thing is that the software automatically processes any price changes online, so that we are always up-to-date. Then we switch smoothly from calculation to order registration. We convert the calculation to a quotation and (after approval) to an order confirmation for the customer and an order form for ourselves. All from the same package, so how streamlined do you want it to be? All the hours of the drawing room, the production, the assembly, the supervision and all the purchase of materials are part of the project. Neatly in one overview. This way we can also compare our pre- and post-calculation of course very quickly! "
Playing safe
Goudriaan does not have a link with other MatrixMetaal modules. "That has nothing to do with quality, but with a choice we have made in it. We did not want to be fully dependent on one party, but rather spread out. If something crashes, we can just continue. In addition, we work with our own graphic software with which we have been familiar for years. And that also applies to our financial package. Thanks to a direct link with Matrix, we can blow through all data in an instant, so that works fine. I do miss one thing in Matrix: the mandatory CE norm. We have to purchase from our software and a certificate must be included with every material. We now have separate software for that, but I would prefer to have it in Matrix. Knowing Matrix will also happen soon, ha, ha. "
Updates that matter
Matrix would like to end up in front of the market and implement current developments as quickly as possible, but will not overload its users with updates. "This is nicely balanced for us", says Goudriaan. "There are annual updates, but not too much. We like that, because with every update you still have to get used to it and getting used takes time. It is also not necessary to get an update for every wisp. The updates really need to be a serious improvement. And they often do that too. We always update an update with only one computer. Our 'whizzkid' then tests if and how everything works. Is it OK, then we install the update on the other computers. If we do not get something wrong, then one call to the Matrix helpdesk is sufficient to get it clear. That is rarely necessary, but it is nice that you are immediately helped! "
About Goudriaan Steel construction
Goudriaan BV was founded in 1969 by Gert Goudriaan and is now led by his son Johan. In half a century the company in Oudewater has become a household name in the steel industry, characterized by craftsmanship, creativity, innovative capacity and thinking along with the customer. Goudriaan BV also has its own design and engineering department. Production takes place in large halls with modern machines. The supply range consists of a wide range of products in steel, stainless steel and aluminum. This varies from steel from stock and large steel constructions to steel stairs, fences, balustrades and sheet metal. Nearly all operations are possible, such as drilling holes, welding, miter sawing, galvanizing, powder coating and spraying. With 35 highly professional employees, all knowledge and experience is available to deliver a technically high-quality product. Goudriaan BV is a recognized training company, affiliated with the trade union Metaalunie and of course VCA and CE EN1090-1 certified.
Read less